Hi,
I am trying to migrate typo3 from a subversion 9 to another subversion in 9.
Shouldnt be complicated but it actually is to me lol.
I couldnt find any tutorials that I could follow easily (what is composer anyways, dont know if I have it).
Basically, i have my files and database. I thought that I should just replace these files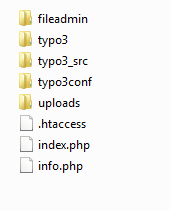 with the new ones and upload the database.
Well doesnt seem to be the case.
I wanted to upload the database via phpmyadmin, but need to add the extension but got an error message:
"
Oops, an error occurred!
ERROR: The extension install path "typo3conf/ext/" was no directory!
More information regarding this error might be available online.
"
Seems like its privilege related, but I have all the rights on this folder.
Sorry for the huge post, but I am kind of out of idea for the moment. If someone has a nice simple tutorial, I am all up for. Even a simple guidelines with steps is better than where I am at now.
TIA guys,